Many Alaska Cruises
Begin in Beautiful Vancouver
Each year, more and more avid travelers are embarking on amazing Alaska cruises, enjoying a fun and adventure-filled week (or more) sailing through the awesome sights of the Last Frontier.
A large majority of those wonderful Alaska cruises depart from Vancouver's expansive port.
The best cruise lines in the industry have recognized the advantages of using the city's excellent facilities, and each year, additional sailings start their journey in Vancouver.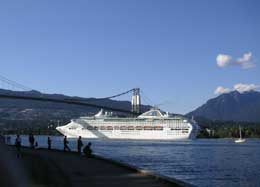 For you, the traveler, that means the opportunity to explore Vancouver's many sights and sounds before or after their cruise, making this an extra special trip that you will remember for years to come.
The window of opportunity for enjoying these Alaska cruises is pretty narrow – May through September – so be sure to book early if you're interested in this once-in-a-lifetime adventure.



Princess Cruises
A number of ships that are part of the highly-rated Princess Cruise line call the port of Vancouver their home. Passengers can sail the Diamond Princess, Island Princess, Sapphire Princess, or Coral Princess from Vancouver.
Each ship is truly magnificent, with hundreds of balconied cabins for exciting non-stop views of the Alaska wilderness. You'll also find plenty of pools and spas, top-notch entertainment, Princess's signature Personal Choice dining, and special programs for children under 18.
Princess's Alaska cruises range in length from 7 to 10 days. Some sail the Inside Passage while others cruise the Gulf of Alaska.



Holland America
The highly-regarded Holland America line offers Alaska tours aboard three of their fine ships – the Veendam, Statendam, and Ryndam.
The Glacier Discovery tours that depart from Vancouver include such ports of call as Ketchikan, Juneau, Skagway, and Anchorage. Glacier Bay Inside passage tours also sail from Vancouver and include Misty Fjords National Monument and Glacier Bay National Park.



Royal Caribbean
The cruise line that promises to treat you like kings and queens offers a number of Alaska tour sailings that depart from Vancouver, British Columbia. Climb aboard the stunning Vision of the Seas, Radiance of the Seas, or Serenade of the Seas for tours of Hubbard Glacier or the Inside Passage.
Royal Caribbean's Alaska tours are 7-nights long and your time will fly during your days onboard these magnificent ships, which feature huge open public spaces and roomy cabins, plenty of amenities, fine food, and entertainment for adults and kids.



Carnival Cruises
Carnival Cruises offers 7-day trips aboard the Carnival Spirit with northbound tours commencing in Vancouver and southbound cruises beginning in Anchorage and ending in Vancouver. You can also choose a Glacier Bay cruise if you prefer.
Carnival is known for their fun ships, where the parties never end, so this is the perfect cruise line for those who enjoy being with an energetic crowd. About 2/3 of the ship's cabins have balconies.



Celebrity Cruises
Celebrity Cruises offers two Alaska tour itineraries – a 7-night Hubbard Glacier Cruise aboard the Infinity or a 7-night northbound cruise on the Summit. Ports include Sitka, Juneau, Ketchikan, Icy Straight Point, and Seward.
Both ships are large and elegant yet passengers will enjoy an intimate cruise experience onboard Celebrity's beautiful ships.



Tell us your story
Everyone likes to read of others' experiences. Please tell us about your cruise in 300 words or less, using the form below. Give us permission to publish it on this page. We reserve the right to edit part or all of it.

Thank you.


Back to top of page - Alaska Cruises
Explore exciting downtown Vancouver
Visit our Home page - 1st-Vancouver.com


Copyright ©2006-12 Abbey World Media, Inc.