Colourful Robson Street
Robson Street Blends Old and New
Just about any Vancouverite would tell you that the place to see and be seen is Robson Street in downtown Vancouver. Dubbed the coolest place in town by residents and visitors alike, this colorful street is home to funky modern-day boutiques and pristine old-fashioned shops and plenty of other enticing sights.
Because of the high concentration of European shops (particularly German) once found here, the street was dubbed Robsonstrasse for several decades. Though many of those shops have disappeared, you'll find that the street truly exudes an international flavor, largely Asian in some sections, but still quite eclectic.
Thanks to the movie industry's love for Vancouver, it's not unusual to find some of your favorite stars strolling down popular Robson Street, shopping in some of the Pacific Northwest's finest stores or dining at a sidewalk café during the warm, sunny weather.
Take time to travel from one end of the street to the other, exploring galleries, restaurants, shops, and every inch of this fascinating avenue.

Fabulous Fashion
Robson Street is, without question, Vancouver's most popular venue for shopping. In a small three block stretch, between the cross streets of Bute and Hornby, you'll find a shopper's paradise. The most difficult part of shopping here will be deciding where to go next as well as keeping track of your credit limit!
Guests will be treated to famous international brands such as Swatch, Body Shop, Guess, BeBe, Nike, Laura Ashley, and Banana Republic. High-end stores include such shops as Zara, Club Monaco, Armani Exchange, BCBG Maxazria, and Ferragamo. Exquisite!
Click on the photos for an enlarged view.

Don't miss the quirky little boutiques that are nestled in between the larger stores, featuring local and international creations. You'll also find plenty of souvenir shops, peddling tee-shirts, mugs, refrigerator magnets, and other items emblazoned with the word "Vancouver."

Fantastic Food
A tasty bite to eat is never far away during your travels up and down Robson Street. Korean and Japanese cuisine are by far the most popular, but visitors can also taste the best in Italian delights, fresh Pacific-Northwest seafood, Spanish tapas, Louisiana jambalaya, French pastries, and sumptuous steaks.
Need your midday latte fix? No problem. Starbucks cafes are everywhere in Vancouver, with Robson Street being home to three of them…at last count. Incidentally, the most profitable Starbucks in western North America is located here on this bustling thoroughfare.
The Robson Strip
When the sun sets on the weekends and on warm summer evenings, Robson Street Vancouver becomes the cruising capital of the Pacific Northwest. Sometimes known as "The Robson Strip," you'll see rare and exotic cars and motorcycles traveling down the street, enjoying a bit of cruising. Cruising was once frowned upon by local authorities, but Vancouver law enforcement has recently become more cruiser-friendly. Shops along Robson Street heartily welcome bikers and offer lots of "bikes only" parking.

A Bit of Culture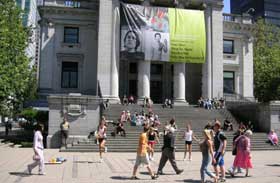 Lest you spend your whole day shopping and eating…don't forget to make a stop at the wonderful Vancouver Art Gallery (located at Robson Square); the lovely Gothic-style Christ Church Cathedral; the fabulous art deco Marine Building; and the HSBC Bank Building, home to one of the most extensive public art installations in North America.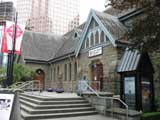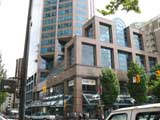 Back to top - Robson Street
See more of exciting downtown Vancouver
Visit our home page 1st-Vancouver.com


Copyright © 2005-12 Abbey World Media, Inc. All rights reserved.