Vancouver Accommodations
Will Suit Every Need And Want
Here's the skinny on Vancouver accommodations year round: the possibilities are numerous and all have much to recommend them. Deciding what criteria to use is one way of searching and finding the perfect selection.
Most good guide books will organize their offerings by price, location, accessibility and amenities. Take some time to figure out what is available in Vancouver hotels and then choose which criteria you rank as most important. Beware of premature selection.
Narrowing your search too soon will cause you to miss exciting and interesting choices that might have a little bit different slant to your most basic needs. Keep an open mind as you peruse the legions of listings under the extremely large category of Vancouver Accommodations.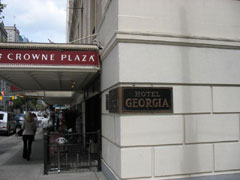 Lodges, resorts, guest houses and motels will all serve certain needs and not be displayed if you narrow your choice to Vancouver hotels at the start of your research. Open your mind and your dreams to include the vast range of possibilities and you will not be disappointed.
For example, you would likely miss the weekly and monthly rates for skippered yacht charters that sleep 4 unless your search of Vancouver accommodations is very broad indeed. Guided white-water trips are available within a few hours drive as well.
But first you need to choose your city base of operations. Here are some ideas to consider as you dream and plan your trip to this cosmopolitan Pacific Northwest paradise. How mobile will you be? Does anyone in your party require special arrangements? Pets? Children? Allergies or disabilities? What about smoking/non-smoking rooms? Do you wish to cook for yourselves or patronize local restaurants?
Now that you are all anxious here is an idea for you: For a good choice of hotels with discount prices, visit Where to Stay in Vancouver for more information. .


Vancouver accommodations are fabulous, friendly and frequently fashionable. Be cool and be hip in the trendy downtown areas or be kid friendly in a large hotel with Water Park and play spaces galore. Listel Vancouver at one end of the spectrum and Hostelling international at the other end will suit each traveler and his/her companions.
Vancouver hotels catering to kids, LGBT individuals and grandparents are all sure to please their diverse audiences. Opus Hotel is trendy; The Fairmont is historic. The Wedgewood is romantic; the best health club is at the Four Seasons. You get the idea. Let your dreams dictate your decision. Live it up. You only live once.



Back to top - Accommodations
Experience the excitement - Downtown Vancouver
An enchanting view of the city - Vancouver Harbour Cruises