Grouse Mountain
Year-round Activities for All Ages

Beautiful Grouse Mountain is a haven for active visitors and locals, from hikers in the summer to skiers in the winter months. Just 12 kilometers (7.5 miles) north of Vancouver, you'll find this playland high in the sky, waiting for visitors to come and enjoy all it has to offer, regardless of the season.
Dubbed "the Peak of Vancouver", Grouse Mountain sits high above the city at 1,200 meters (4,100 feet) and offers visitors a day full of activities and a nice change from sightseeing pursuits in and around the city.
Reaching the Mountain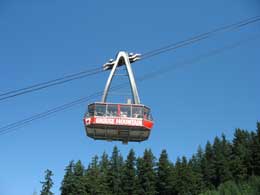 The best and most exciting way to get to the top of picturesque Grouse Mountain is to catch the Super SkyRide, a tram that holds 100 passengers and whisks you up the side of the mountain in just eight minutes.

During peak seasons, it runs about every 15 minutes from 10 in the morning until 10 at night.


This is the
largest aerial tramway in all of North America
and the views as you climb the mountainside are spectacular! Even if you choose not to participate in any of the activities to be found at the top of the mountain, you'll want to experience this totally
cool ride!
Winter Sports
Grouse Mountain enjoys plenty of annual snowfall and locals and visitors appreciate the fact that they can take advantage of skiing at Vancouver's back door, without having to drive to Whistler or other larger ski destinations. While Grouse Mountain skiing may not provide the same large resort experience as Whistler, it's a convenient way to take advantage of a great day on the slopes.
There are 25 daytime ski and snowboard runs here and an additional 13 for nighttime activity. The mountain is also home to two terrain parks, one for novices and the other for advanced boarders. Visitors will also find 5 exciting trails for snowshoeing and a huge 8,000 square foot ice skating pond. Ski, snowboard, showshoe, and skate rentals are all available onsite. If you're new to skiing, the Snow School offers lessons and clinics for all ages. Also, don't miss the opportunity to enjoy an old-fashioned sleighride through this snowy paradise.
Summer Activities
Hiking and trail running are the most popular warm weather pursuits on the top of Grouse Mountain. You'll find numerous excellent trails here that wind their way through beautiful alpine scenery. If you're super fit, you'll want to check out The Grouse Grind, often called "Mother Nature's Stairmaster", a 2.9 kilometer hike straight up the face of the mountain.
Visitors may also choose guided eco-walks that feature a great opportunity to learn about local flora and fauna and the Grouse Mountain Refuge for Endangered Wildlife offers fascinating educational programs that include science, social studies and recreational components.
Entertainment
Most visitors don't leave the mountain without a stop at the Theater in the Sky and its high-definition cinematic experience entitled "Born to Fly", which takes the audience on an up-close journey through beautiful British Columbia and provides information on the history of Grouse Mountain.
In the summer, you won't want to miss the world-famous Lumberjack Show. Watch expert "jacks" climb trees, roll logs, and throw axes. The whole family will be thrilled by this exhibition!
Dining and Shopping
There's no need to leave the mountain when it's time for a bite to eat. Grouse Mountain offers fine dining at its Observatory Restaurant as well as more casual fare at Attitudes Bistro and Lupins Café. There's also a coffee bar and, during the summer, an outdoor barbecue. And, of course…there's a Starbucks at the base of the mountain!
Don't forget to take home some Vancouver memories with a stop at the Spirit Gallery Gift Shop, where you can purchase souvenirs including authentic West Coast memorabilia and handicrafts.




Back to top - Grouse Mountain
Visit our home page - 1st- Vancouver.com


Copyright ©2005-12 Abbey World Media, Inc.