The Harbour Centre Tower
Home to the Vancouver Lookout
A Great Place
to Enjoy a Bird's-eye View of the City
It's often hard to decide where to go first in Vancouver BC, but the Harbour Centre Tower is a fun and logical choice, especially for first time visitors who haven't yet planned their itinerary for their stay in this most fascinating of cities.

Why the Harbour Centre Tower? Soaring 177 meters (581 feet) into Vancouver's blue sky, a visit to the Vancouver Lookout is a great way for you to capture the city and all its splendour and get your first look at all there is to see on the ground. The view from up top is spectacular, especially on clear days, when you can see
Grouse Mountain and sometimes clear out to Vancouver Island or to Mount Baker in nearby Washington!

Harbour Centre Tower Info
The tallest building in British Columbia, the Harbour Centre Tower observation deck officially opened for business three decades ago on August 13, 1977. Neil Armstrong, the first man on the moon, presided at the opening ceremonies, leaving his footprint cast in concrete for all to see.
The ascent to the top of the Vancouver Lookout is via an elevator which climbs the outside of the building. This ride takes less than 50 seconds and has thrilled millions of Vancouver visitors over the years.


The Tower is open all year long from about 9 am to 9 pm with extended hours offered during peak tourist season. Rates are reasonable and once you purchase a
ticket
, you can
come back as many times as you'd like
throughout that particular day and night to enjoy the view. That gives visitors an opportunity to experience the magnificent sights of Vancouver after the sun has set and the city is illuminated with
millions of lights
.
On this level, there's also a small gift shop as well as a snack bar where you can grab a quick sandwich and a beverage. There's also a small theater featuring an interesting multi-image production about the city.
More to Do at the Vancouver Lookout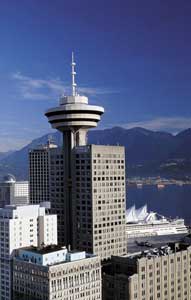 The Harbour Centre Tower is also home to the Top of Vancouver Revolving Restaurant. Located just below the observation deck, the menu at this unique restaurant includes plenty of seafood, steaks, and poultry, including a number of local specialties such as Dungeness crab and Pacific salmon, and the wine selection is vast. The restaurant revolves once about every 90 minutes so you'll be able to see the whole city during your meal. Reservations are suggested. (604 669-2220)
Visitors to the Harbour Centre Tower will also find two floors full of stores at the base of the tower for their shopping pleasure and convenience.

Photos on this page courtesy of Vancouver Lookout.


Copyright ©2006-12 Abbey World Media, Inc.




Return to top - Harbour Centre Tower
Visit 1st-Vancouver.com home page